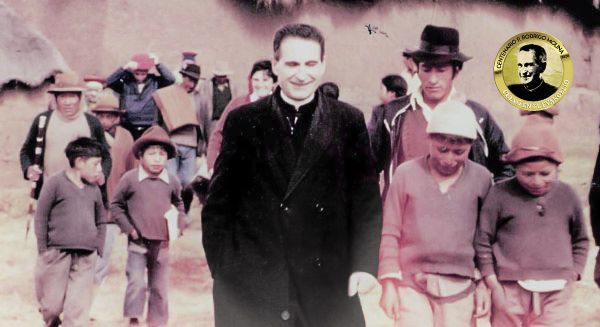 Today October 23, PRODEIN closes the celebration of the 100th years of the birth of its founder, Father Rodrigo Molina. We remember him with these words that define him in his dedication to the poorest, his "crushed", as he used to call them: "Christ looked at the poor that I am, I have to look at the poor today, I must give my life for him… "
In 1966, Father Molina went to Cuzco (Peru) as the personal secretary of the Archbishop of Cuzco, Bishop Ricardo Durand, S.I., and was appointed General Director of Indigenous Promotion and Development. Upon arriving, he found a very dramatic panorama of the misery of the Quechua people, which wounded his soul. Before education (without excluding it), it was important for him to attend to those hungry, sick brothers, devoid of everything.  Right there, and in response to the imperative call of the Second Vatican Council and the Encyclicals of the last Popes, in 1969 he founded PRODESA, currently PRODEIN (Promoter of Integral Development).
In February 1971, in one of his letters to a collaborator in Spain, Father Molina commented on the desolation he found in those small towns of about 3,000 inhabitants, at about 3,700 meters above sea level. There, with Prodein's team, he fed them and cared for them religiously, and when they left - he writes - "it was pitiful to hear them: 'don't abandon us, don't abandon us' -and he exclaimed- They look so despised and abandoned ...! ."
In another letter from June 1974 we read: "Here all we have are problems. There is no family without a problem. But the joy and the treasure is here. Each problem solved one saved Jesus."
That was the supernatural vision of Father Molina, full of the spirit of faith and love-service to do good to others.  And in the same spirit, PRODEIN was  consolidating and expanding in different places and countries to promote the development of poor and marginalized communities through education, dining rooms, medical posts ... An example is the "Casa Hogar del Campesino" in Cuzco, which later became the "Hermana Josefina Serrano" hospital. 
We invite you to take a trip through time with this video, which will lead you to those beginnings and later development of this great Work, and will make you realize the unwavering faith of Father Molina, his love for those most in need and his supernatural optimism, which led him to say: "There is nothing here, there will be something here." 
Today, more than ever, at the close of the Centennial of his birth, we keep him in mind, to say like him: How great is the vocation to do good!
Get ready, we're going to take off!
Then we share the story of the video in English, thank you.
Father RODRIGO MOLINA.
CENTENARY OF HIS BIRTH: 1920-2020.
Founder
On December 4, 1966, Father Molina left for his new destination: Cuzco, Peru, where he had been appointed as secretary of Bishop Ricardo Durán and General Director of Indigenous Promotion and Development. The heartbreaking desolation of the Quechua people devastated him.
Something had to be done and the Lord was asking him to do it. He had no human means, but he leant on God with a faith that moves mountains, an unlimited trust and a very strong love. What could he do if he was alone?
He felt the need to form an association and with much effort, heroic humility and obedience, after long hours of prayer, the Association was born. It was entirely dedicated to sow hope among "His crushed ones": the poorest of the poor. It was devoted to those who starve, freeze to death, or die without culture or without God.
Hanging on God's Providence and faithful to the Gospel, he would follow Jesus until loving Him in every suffering human being. Father Molina insisted a lot on the need to associate in order to undertake the integral development plan designed by Christ in the Gospel.
In accordance with magisterial documents such as Mater et Magistra, Pacem in terris, Populorum progression, among others, he promoted the creation of various associations where everyone: priests, celibate laity and married couples had a place.
He opened the first office in the corridor of a house located on Nueva Baja Street. It would be the cradle of his work, which has now spread throughout eleven countries of the world.   Its presence is in Europe as well as in America: Spain, the United States, Mexico, the Dominican Republic, Puerto Rico, Venezuela, Colombia, Peru, Chile, Argentina, and Brazil.
In 1967, in San Sebastián, Spain, he met José Cruz Vicente Letamendía and Rosa María Urra, a young couple who wanted to get married and give themselves fully to the work of Father Molina. They arrived in Peru on February 10, 1968. It is there where their two children were born and they adopted a girl from Cuzco. They were the first missionary married couple and became the foundation for the married branch. With their arrival, the first "Cristo Rey" workshop-school was established. This would be the first of the 36 educational centers that ABC Prodein currently has.
On August 9, 1970, the Letamendía family died in a plane crash. Their life and their death produced an extraordinary fruit of dedication to God in the service to the poorest. Many lay people will follow their path and carry out their specific mission: to sanctify temporary structures.
Father Molina divided his time between Spain and Peru. He preached in various cities and gave rounds of Spiritual Exercises. A young teacher from Cuenca, Josefina Serrano García, attended one of those retreats and she became the cornerstone of the feminine missionary sector. Love was her main drive, and her primary work was the hospital located in Cuzco, which has saved so many lives. She offered up her life for Fr. Molina and for priests. The Lord welcomed this offering and after three years of heartbreaking illness, her precious soul went out to meet the Lord on October 5, 1999.
Expansion
Achieving integral development according to the model of the Gospel was Father Molina's ideal and dream. He devoted himself without reserve so that the whole earth would overflow with God's glory. "Omnis Terra Gloria Dei". His desire to be the light of God in the world made him itinerant in order to radiate that light up to the last corners of the world where darkness and lack of love overshadow so many lives.
He was a tireless preacher. He consolidated his work in the Andean highlands and traveled throughout countless cities. Many people found the meaning of their lives with his innumerable rounds of spiritual exercises. He wanted to help them to be the salt of the world with his light and example. He was an apostle no less contemplative than active. He opened horizons of light and he drew new paths.
He tenaciously promoted perpetual adoration of the Blessed Sacrament. He also cultivated and encouraged devotion to the Blessed Virgin Mary under the advocation of "Our Lady of the Encounter with God", whom he professed the most tender love, leaving her as a precious legacy to his spiritual children. He named her Patron and Protector of his organization.  Father Molina built churches, centers of study and spirituality. He led parishes. He founded nurseries, schools, all sorts of workshops, "soup kitchens", health centers and nursing homes. He created studios as well as TV and radio stations. He founded presses, bookstores and the publishing house Testimonio. His trust in God was not disappointed. NSE, Prodein the various institutions that consider him a founder or inspirer, his priests, missionaries, married couples and collaborators attest that God worked through him.
On November 5, 1996, father Molina, with the express approval of his superiors, began to live his consecration to God at the service of the various associations that God had entrusted him. When he knew his time was coming he was glad. He offered himself as a victim with Christ and left us the most precious gift: his life. After suffering a painful cancer with heroic strength, he died on April 28, 2002. Eighty-one long years spent in loving service to God and the Church. A beautiful flash of God's light.