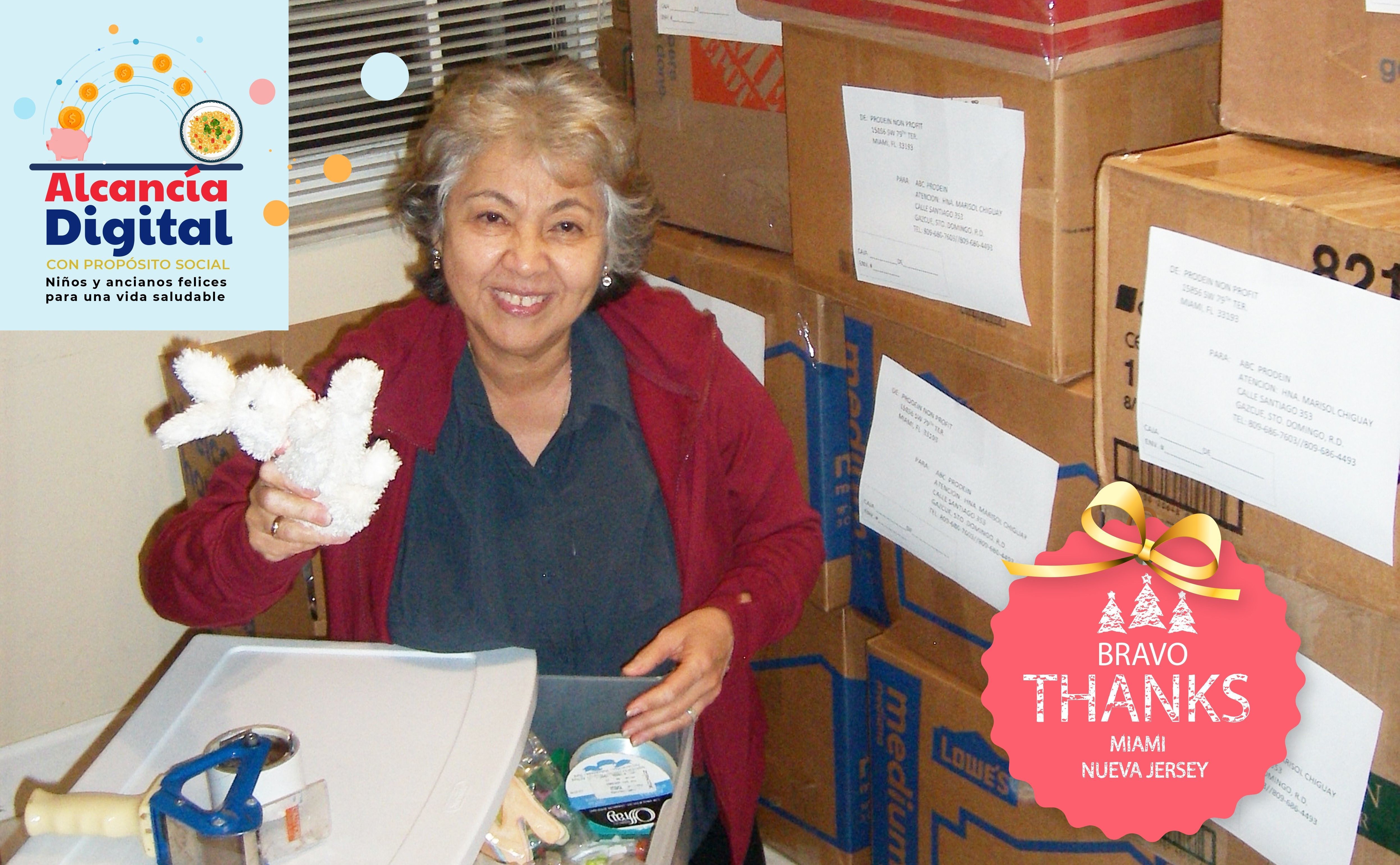 ON CHRISTMAS, PRODEIN-NON-PROFIT JOINS ITS EFFORTS WITH LOVE FOR THE SERVICE OF THE MOST NEEDED.
During these last weeks, 46 boxes have been sent to the Dominican Republic from the Miami´s PRODEIN NON-PROFIT office full of toys, school supplies and crafts, as well as kitchen utensils, which people with good hearts have donated throughout the year, all ready to be handed out during Christmas days to some 130 needy families from Santo Domingo and Santiago de los Caballeros.  Martina, a Prodein volunteer in Miami, during that week forfeited some personal tasks to devote herself to the packing of the boxes and she tells us with joy and satisfaction: "I share what God gives me, especially time -which is so valuable - to help others".
From New Jersey forces were joined to send three huge boxes full of panettones, chocolates, cookies, cereals and sweets to share with the family. 
These donations are very important because we get news from people in great need who have absolutely no one to speak for them. As it happened to Juan, an old man whose story we want to share with you: 
The missionaries, along with a group of young people, visited a neighborhood called Cansino Adentro, on the outskirts of Santo Domingo, and helped several families in dire need with food and clothing. That is how they met Juan. 
Juan was a grandfather with one bandaged leg, giving off a strong stench. He had mouth sores. His daughter administered pain killers to him, without giving him any food. He had been rejected from the hospital, perhaps because his case was hopeless ... 
The missionaries said a few words of encouragement, gave him a medal of the Virgin Mary and prayed with him. 
The next day they called his neighbor to try to have him treated by a volunteer doctor they had found.  But Juan had already left this world ...
Thanks to the dedication of the missionaries, he left with the comfort of prayer and the love of those who had been interested in him. 
You too can bring comfort, relief, joy to those who suffer. Do you want to collaborate?