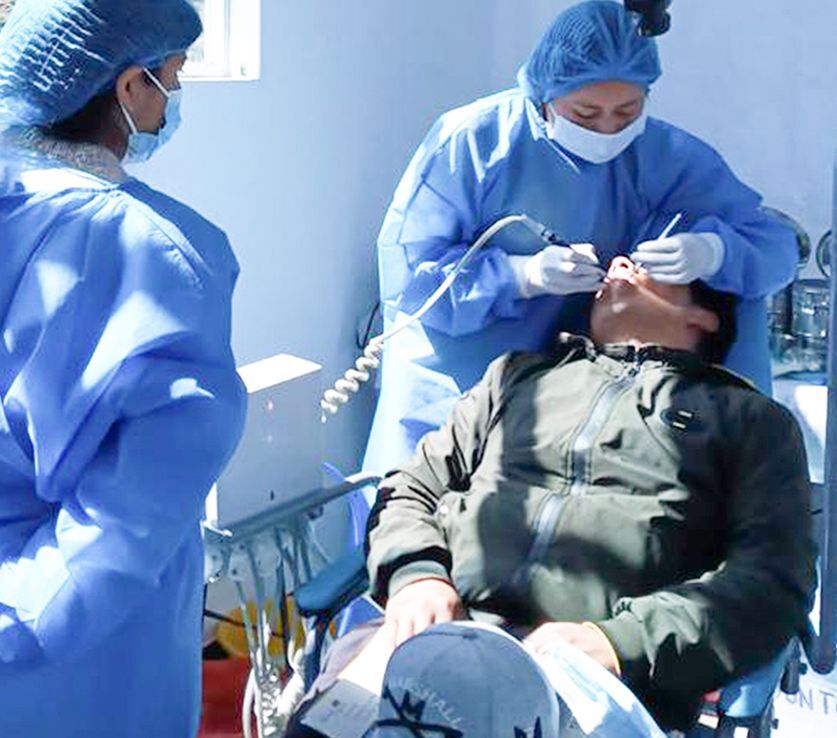 For three days a team from the Hermana Josefina Serrano Hospital made a medical tour in Untuca, a village about 300 km from the city of Cusco.
They left Cusco at six o'clock in the morning by bus and arrived in Untuca at eight o'clock in the evening. On the way there was a very dangerous road with many curves and precipices.
Twelve missionaries participated, including five doctors (specialized in general medicine, radiology and ondotology), two pharmacists, a nurse, four nursing technicians, and a companion, who carried their medical equipment and medicines.
Untuca is in a highland mining area, almost five thousand meters above sea level, in Puno, close to the jungle. It has gold mines and it is very cold.
The people there suffer a lot. Most of them work outdoors and suffer from musculoskeletal pathologies.
There are communication problems with other places and there is not in the town something so common among us, such as a pharmacy that provides them with medicines. In order to get them, they have to travel to Juliaca, through dangerous routes of precipices and assaults on the road.
For the medical campaign, the missionaries prepared the medical post with the equipment that they brought. The day of attention began at eight o'clock in the morning. 
They assisted three hundred and sixty patients in the area of general medicine. They performed one hundred and eight ultrasounds (some people had an ultrasound for the first time in their lives) and forty three patients received dental care.
 The novelty of this tour was the use of glucometers, which can measure, apart from glucose, hemoglobin, uric acid and cholesterol. This allowed them to have better care. It was the first time that they had this type of ambulatory analysis, which is very useful. Ninety-seven tests were performed. A total of five hundred eleven consultations were attended.
This has been possible thanks to your help.